Brita PRO® Whole-Home Water Filtration Systems
Chloramine Titanium Series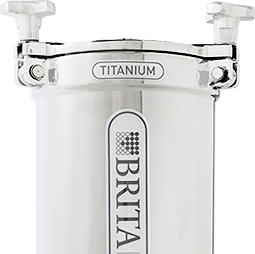 All-new titanium-level whole-home chloramine removal.
This all-new whole-home chloramine removal system uses the Brita PRO® advanced titanium housing and cartridge with proprietary new media to remove both chloramine and other organic impurities.
The Brita PRO Whole-Home Chloramine Removal System:
Delivers breakthrough flow rates and treatment efficiency to take whole-home chloramine removal to the next level
IAPMO R&T certified
Like all Brita PRO whole-home systems, our new whole-home chloramine removal system:
Coming Soon!
Filters all household water at the point of entry
Keeps residue from impurities off your family's clothes, bed linens and dishes
Eliminates impurities in the steam and water in showers and baths
Provides high-capacity flow for reliable access to high-quality water
Customized to your individual needs, including household size and plumbing
Designed for easy installation, use and maintenance
Environmentally friendly with landfill-safe certified filtration media
Made in the USA in an ISO 9001:2008
Quality Assurance Certified manufacturing plant
Whole-home chloramine removal: an investment in your family's health and well-being.

A whole-home chloramine removal solution from Brita PRO makes sure that your entire household water supply, including for showers and baths, dishes and clothes, is clean, pure and safe. Putting Brita PRO quality, expertise and technology together with post-installation testing from an EPA-certified independent lab adds something very important: peace of mind. When it comes to your family's health and well-being, that's something well worth the investment.
Find out WHAT'S IN YOUR HOUSEHOLD'S WATER with an independent water test.
Trust Brita PRO to protect your family's water supply.
Only Brita PRO customizes its whole-home water filter to remove all impurities from your family's water. And only Brita PRO tests your water with an independent, EPA-certified lab before and after installation to deliver the peace of mind you get when you know that your family is safe.